Dental Hygiene Degree Completion Program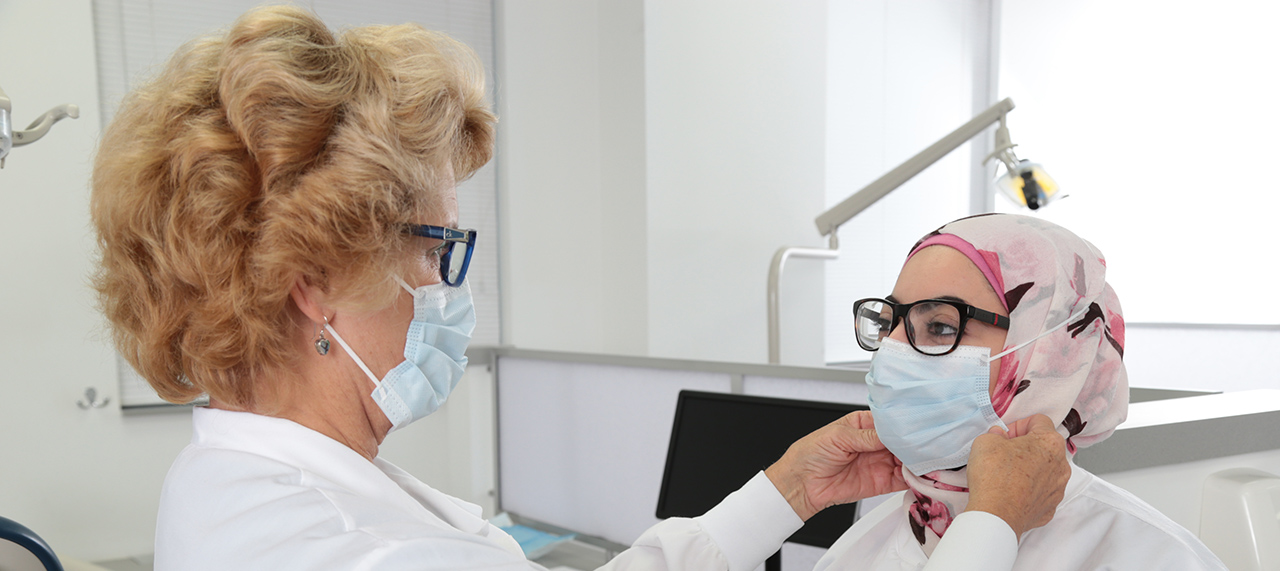 The Degree Completion program is for currently licensed Dental Hygienists who have graduated from an accredited dental hygiene program, but did not obtain a Bachelor's degree as part of their studies.  A Bachelor of Science degree can increase employment beyond an entry-level position and in alternative practice settings; an advanced degree develops a better-rounded professional and provides opportunities for career and educational advancement.
Our program provides a stimulating environment where students gain a superb understanding of research methods and current research in the field, as well as advanced knowledge and clinical skills in periodontics.
Prospective students must have already received either a certificate in Dental Hygiene or an Associate's Degree in Dental Hygiene in order to be admitted.  Applicants with a Diploma in Dental Hygiene from an accredited Canadian program may also apply.
Read more about our Degree Completion Program
Goals
Increase the number of dental hygienists receiving baccalaureate degrees who will then contribute to the knowledge base of the profession.
Maintain a contemporary dental hygiene degree completion program based on feedback for change.
Provide a dynamic interdisciplinary curriculum.
Maintain admission policies to ensure admission of a diverse and qualified student body.
Support and encourage continued formal education and advanced educational degrees.
Provide individualized student centered education.
Increase awareness of professional associations and activities.
Vision
The Dental Hygiene Baccalaureate Degree Completion Program will be nationally recognized for its innovative and flexible curriculum, whose graduates will be able to function optimally in dynamic career settings.
Philosophy
The philosophy of the Baccalaureate Degree Completion Program is to prepare the registered dental hygienist for a Bachelor of Science Degree concentrating in areas of nontraditional dental hygiene. 
The program will offer a dynamic and interdisciplinary background that will increase career opportunities and allow for intellectual and professional growth.  The program will allow exploration into a variety of alternative practice settings and will promote life long learning.
Mission
The mission of the Degree Completion Program is to offer an individualized, diversified curriculum to its students allowing unlimited time commitment for completion of a Bachelor of Science in Dental Hygiene.
Along with the fulfillment of the basic dental hygiene education, the program requires completion of the University of Detroit Mercy Core requirements that focus on math, computer literacy and humanities (religion, philosophy, culture/language, and art/music/drama). In addition to the core coursework, additional studies in dental hygiene related courses are required of students transferring from outside dental hygiene programs.
Due to prior completion of many of the core courses, many degree completion students have additional credits needed in electives in order to complete the Bachelor of Science degree. These electives can be fulfilled in any area of choice.  Directed Studies can be individually developed to allow licensed dental hygienists the option to complete studies in areas of interest in the dental or dental hygiene field or other health related areas.  
Other options for students pursuing a Bachelor of Science degree include exploration into areas outside the realm of clinical dental hygiene. Students interested in healthcare education, business, management/administration, research, psychology or counseling are able to choose coursework from other colleges within the University of Detroit Mercy. Students may also choose elective coursework as prerequisites for entrance into a Master's or professional degree program.
 

Curriculum

The following course work is required of all students working toward a Bachelor of Science degree in dental hygiene and encompasses both University Core and Dental Hygiene Core classes.

Course descriptions are available via the Undergraduate Catalog.

University Core Curriculum

| Course Number | Course Title | Semester Cr. |
| --- | --- | --- |
| B1 | College Algebra | 3 |
| B2 | Statistical/ Probabilistic reasoning | 3 |
| D1 | PHIL 1000 | 3 |
| D2 | One 2000 level REL course | 3 |
| D3 | PHIL/RELS | 3 |
| E-l | Historical Experience | 3 |
| E-2 | Literary Experience ( ENL 2350 or 2450 or 2650 | 3 |
| E-3 | Aesthetic Experience  | 3 |
| IT1 | RWR Across Curriculum | 3 |
| IT2 | Critical Thinking | 3 |
| IT3 | Cultural Diversity  | 3 |
| IT4 | Human Difference | 3 |
| IT5 | Personal Spiritual Development | 3 |
| IT6 | Spirituality and Social Justice | 3 |

Dental Hygiene Core Curriculum

| Course Number | Course Title | Semester Cr. |
| --- | --- | --- |
| DHY 8310 |  (Fall Online) Dental Hygiene Research Methods | 3 |
| DHY 8312 | (Winter Online) Dental Hygiene Capstone (Scholarly Activity) | 3 |

Electives

Electives include any additional courses beyond those stated above necessary to achieve completion of 126 credit hours. This coursework may include any coursework or an independent/directed study in the student's particular area of interest.

 

Fees and Expenses

In some cases, academic grants are awarded based on incoming GPA.  Qualifications for this type of funding will be addressed during advising appointments, but is also reviewable in the