73:72

Dental Class of 2020 is the first to have more females than males

1932

School of Dentistry is founded
Be a Part of Detroit Mercy Dental
The University of Detroit Mercy School of Dentistry is committed to offering students a dynamic and comprehensive academic environment. We are dedicated to being a provider of top-notch clinical care and believe that a professional life includes serving those in need.
We invite you to become a part of a collaborative culture of influences as learners and leaders.
The Mission
The University of Detroit Mercy School of Dentistry, in the Jesuit and Mercy tradition, through the integration of research, scholarly activity, evidence-based teaching, and service, fosters a forward thinking, inclusive learning environment committed to developing competent, socially and ethically sensitive healthcare professionals who are committed to patient care and community wellness.
News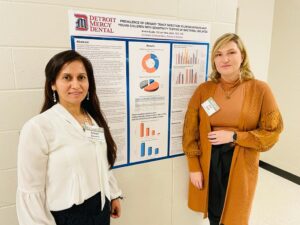 Wed, December 8, 2021
Everyday, there are special achievements and newsworthy headlines happening at the School of Dentistry. In an effort to give proper acknowledgment and share these successes, please tune in for the monthly ...
Read the story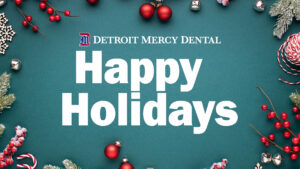 Wed, December 8, 2021
Detroit Mercy Dental wishes you a happy, healthy and safe holiday season. The Corktown Campus will adhere to the following holiday hours and campus closure. Saturday, December 18th – Sunday December ...
Read the story
Wed, November 17, 2021
Tue, November 9, 2021
Wed, November 3, 2021
Tue, November 2, 2021
Alumni and Community
Career Help
Find a Trusted Detroit Mercy Dentist